Read Time:
2 Minute, 2 Second
App Library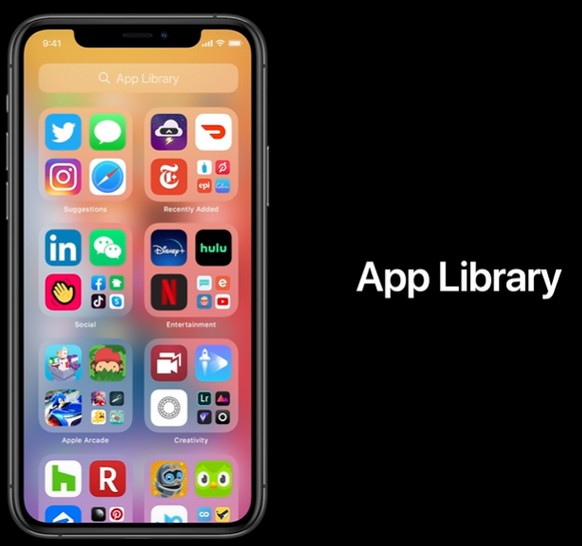 This is basically an App drawer that we've seen on Android smartphones for years. It lists all the apps you have installed on your phone. It automatically categorizes them into specific groups like Social, Entertainment and Creativity. Another page out of Android is the suggestions popular that has been quite promiment in Android Pixel launcher and other such Android implementations.
Widgets on the home screen
12 long years after Android launchers iOS finally supports widgets on the home screen. They come in different size options- small,medium and large so they're a step behind android in size customisation. Earlier you could access widgets only on Today view shelf that was present on the left of the home screen. There's also a smart stack widget which shows you options according to the time of the day and your general use patterns during that time.
Replace email and browser default apps
To Android users this option coming after so long may sound but now iOS users can finally change email and browser apps to their liking.
Compact Calls
Phone calls and FaceTime calls on iOS will now no longer disrupt you in the middle of your game or work by taking up the whole and would now instead show up as a notification like Android.
Picture-in-Picture mode
This was a much need feature that has been present on android phones for a few years
App Clips
Same as Instant apps from Google these are basically light-weight version of Apps designed for better experience. Apple is integrating them into its other services like Maps and Messages, and it's rolling out custom QR codes and NFC support just for these new App Clips
Wind Down mode
Basically the same as Bedtime mode on Android. Similar to Android flipping your phone into Do Not Disturb mode and promts you some to do actions for better sleep.
Apple Translate- The Google Translate ripoff
Bonus features
Apple Maps gets bike support and Like Google Maps and Waze it will now tell you when you're coming up on a speed camera and even see where they're located on the map

On-device voice recognition for keyboard input
Safari gets language translation and password monitoring which will let you know if your saved passwords have been part of a leak or breach.
You will also be able to mirror front camera photos to match the preview on the viewfinder.