Read Time:
3 Minute, 39 Second
Microsoft is taking a monumental step by integrating Python, a leading programming language, into its Excel platform. This fusion is set to redefine how businesses and individuals approach data analysis and visualization. With this integration, users can effortlessly combine the analytical prowess of Python with the user-friendly interface of Excel, all within a single workbook..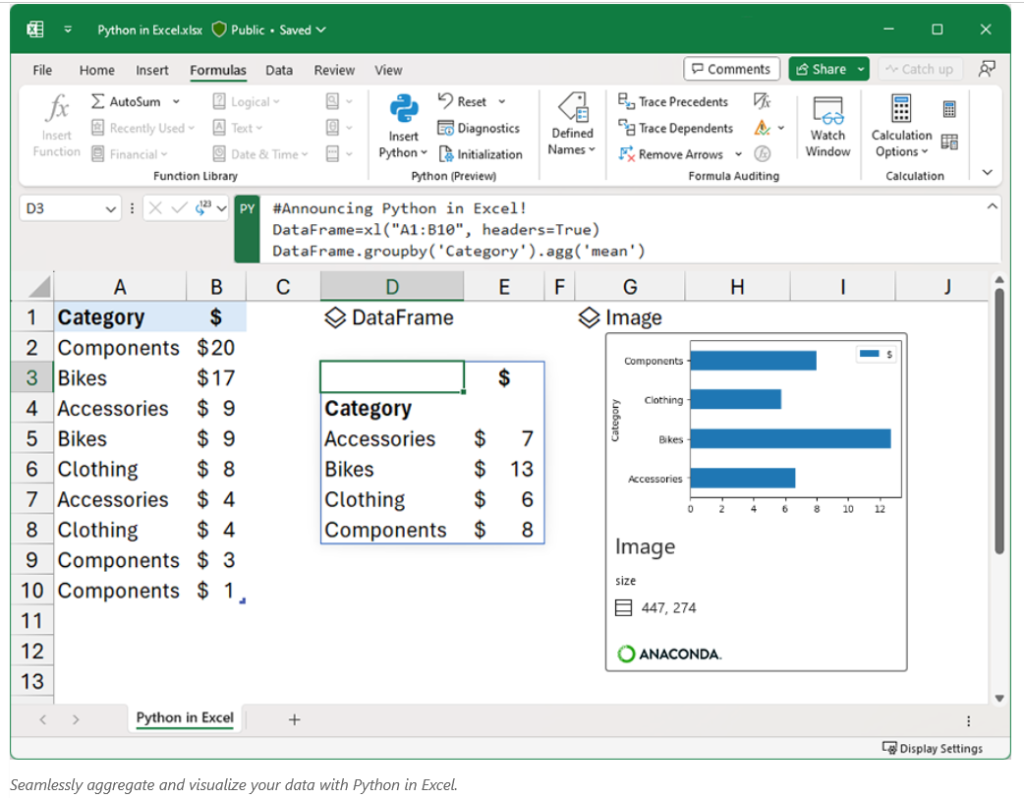 Key Highlights:
Python in Excel: Microsoft's new initiative allows users to input Python code directly into Excel cells. This means that Python computations will be executed in the Microsoft Cloud, with results, including plots and visualizations, being displayed right in the Excel worksheet.
Anaconda Partnership: Microsoft has collaborated with Anaconda, a premier enterprise Python repository. This ensures that popular Python libraries like pandas, Matplotlib, and scikit-learn are readily available within Excel. Peter Wang, Anaconda's CEO, expressed his excitement about this integration, emphasizing its potential to revolutionize workflows for millions of Excel users globally.
Cloud-Based Execution: Python code within Excel will run on Microsoft's Cloud, ensuring enterprise-level security and compliance. This setup ensures data privacy and security, with Python code being executed in isolated containers using Azure Container Instances.
Team Collaboration: Sharing workbooks containing Python analytics is now hassle-free. Team members can interact with and refresh the analytics without the need for additional installations or setups. This feature is especially beneficial for teams collaborating through platforms like Microsoft Teams and Microsoft Outlook.
Microsoft's Commitment: This integration is a testament to Microsoft's dedication to Python. Guido van Rossum, Python's creator and a distinguished engineer at Microsoft, lauded the integration, highlighting its potential to foster innovation and collaboration between the Python and Excel communities.
Implications for Businesses: The integration of Python into Excel is set to have profound implications for businesses:
Enhanced Data Analysis: Businesses can now leverage Python's advanced analytical capabilities, such as machine learning and predictive analytics, directly within Excel. This means more accurate forecasts, better decision-making, and improved business strategies.
Cost-Efficiency: With Python's capabilities embedded in Excel, businesses can save on costs associated with using multiple tools or platforms for data analysis.
Streamlined Workflows: The integration simplifies data analysis workflows, reducing the time and effort required to derive insights from data.
Improved Collaboration: Teams can now collaborate more effectively, sharing and working on Python-enhanced Excel sheets without the need for additional setups.
Skill Development: As Python is one of the most sought-after skills in the data science domain, this integration provides an opportunity for professionals to familiarize themselves with Python, enhancing their skill set and marketability.
Stefan Kinnestrand, the general manager of modern work at Microsoft, elaborated on this integration, stating that users can now harness Python's libraries and plots within Excel. Furthermore, they can also employ Excel's native features like formulas, charts, and PivotTables to enhance their data insights. A notable aspect of this integration is that users won't require any additional installations or setups. The Python support will be natively available in Excel through its built-in connectors and Power Query. Microsoft is also introducing a new function, "PY", which will enable Python data to be displayed within Excel's grid.
In collaboration with Anaconda, a leading enterprise Python repository, Microsoft will make popular Python libraries such as pandas, statsmodels, and Matplotlib accessible in Excel. All Python computations will be processed in Microsoft's Cloud, and the results will be directly fed into an Excel worksheet. This will empower Excel users to formulate formulas, PivotTables, and charts based on Python data. They can also leverage charting libraries like Matplotlib and Seaborn to create advanced visualizations.
Guido van Rossum, the creator of Python and a distinguished engineer at Microsoft, expressed his enthusiasm for this integration. He believes that this collaboration will open up new avenues for both the Python and Excel communities, enhancing their capabilities.
Currently, the Python in Excel feature is available as a public preview for Microsoft 365 Insiders in the Beta Channel. Initially, it will be exclusive to Windows but will be expanded to other platforms in the future. During the preview phase, this feature will be part of the Microsoft 365 subscription. However, post-preview, certain functionalities might require a paid license.
In conclusion, the marriage of Python and Excel is set to usher in a new era of data analysis. Businesses that leverage this integration will undoubtedly have a competitive edge in the data-driven world of today.
Source: Microsoft Tech Community.